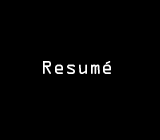 This is simply the Word-/HTML converted copy of my resumé . Individuals interested / in attaining a complete resumé in Word /format /should /email me.

/
/
---
Mr. Kim V. McCumber / /
/
/

800 Heath St. Apt. 74, Greenville, NC /27858

/
/

(252) 830-6714 (H)

/

kvm0214

@mail.ecu.edu /
/
/ /

EDUCATION

/ /
East Carolina University, /Greenville, North Carolina
/
Projected date of graduation: May, 2002

Bachelor of Science in Chemistry and Biochemistry

GPA: 3.81/4.0

Chemistry Courses Completed: Quantitative Analysis, Organic Chemistry I and II, Computer Techniques in Experimental Chemistry
North Carolina School of Science and Mathematics, graduated May, 1998.
PROFESSIONAL SKILLS
Analytical Chemistry
: GC, HPLC, Column Chromatography, AA, UV-Vis Spectroscopy, Fluorescence Spectroscopy, GC/MS, Acid-Base Titrations, Melting Point Determinations
General Laboratory
: Reagent Preparation, Pipetting, weighing, titration, glassware maintenance, glassblowing
Computers
: DOS, Windows, WordPerfect, Word, Excel, CricketGraph, Igor Pro, PowerPoint, HTML
RESEARCH EXPERIENCE

Undergraduate Researcher,
East Carolina University, Department of Chemistry. Conducting biophysical research under Dr. Nathan R. Brandstater. (Spring, 1999 — Present)
Researcher,
Texas A&M University, Veterinary, Anatomy and Public Health Laboratories. Conducted environmental research under Dr. Beverly Clement through the NASA-SHARPS High School Apprenticeship Program. (Summer, 1997)
Laboratory Aid,
Womack Army Medical Center, Hematology Laboratory. Responsibilities included preparation of blood smears and analysis with the use of computerized instruments. Position as volunteer for American Red Cross (Summer, 1997)
Researcher
, East Carolina University, School of Medicine. Assisted in physiological research under Dr. Arthur Bode through the Summer Ventures in Science and Mathematics program. (Summer, 1996)
COMMUNITY SERVICE
American Red Cross, Ft. Bragg, North Carolina
Laboratory Assistant

Aided in a Hematology Laboratory, prepared blood smears, analyzed blood samples using computerized instrumentation

McCumber, Kim V.

Page 2

AWARDS

Chancellor's Scholarship Recipient, East Carolina University
Air Force ROTC Type II Scholarship
Chancellor's List, Fall 1998 (4.0 GPA)
Dean's List, Spring 1999, Fall 1999

ACTIVITIES

Editor, School Annual
, directed staff of 35 people. Supervised copy, photography, layout and art. Prepared layouts using Aldus Pagemaker. (1997-1998)
Photographer, School Annual and Newspaper
, Used personal Nikon N50 camera to photograph school events. Developed and printed pictures in darkroom setting. (1997-1998)

WORK EXPERIENCE

October 5, 1999 — Present — Tutor, ECU Student Athletics. Tutor student athletes in chemistry and mathematics.
August 7, 1999 — October 5, 1999 — Lab Assistant, ECU School of Medicine, Biochemistry Department. Duties consist in glassware upkeep and general lab maintenance.
June 20 — July 17, 1999 — Lab Assistant, Summer Ventures in Science and Math., East Carolina University, Greenville, North Carolina. Duties consisted in aiding in lab preparation as well as classroom instruction.
August 28 - November 23, 1998 — Photographer, The East Carolinian.
June 15 — August 8, 1998 — Customer Service Representative for Time-Warner Cable, Fayetteville, North Carolina. Duties consisted of assisting customers with questions and problems via phone.

REFERENCES:

Available upon request.